10 Unique & Creative Ways to Use Business Cards
We all know business cards as a staple and timeless marketing tool used to pass along contact information and get your name out there. It's the best silent sidekick when you're networking, and as long as you have one on you, you can turn any situation into a networking opportunity. But have you ever wondered what more you can use this compact print product for? Believe it or not, there are actually some unique, alternative ways you can use business cards, with some common examples being appointment cards, jewelry backing cards, and even wedding RSVP cards! Read on to see 10 creative ways you can use business cards to boost your revenue and enhance your brand.
1. Interactive Business Cards
The most common use for a business card is to pass along a quick tidbit of your contact information. Have you ever thought of adding a QR code to your traditional business card? Making your business card interactive encourages the recipient to participate and dive deeper into what you offer, as you can include things like a direct, scannable link to your website or social media accounts, and also gives them a unique factor to remember you by. (Pssst – you can easily add a QR code to any design using our online designer!)
Most popular at medical offices, but often seen at other establishments like salons or spas, appointment cards are a must-have if you plan to give your clients a reminder card for their next appointment. The reason why business cards are perfect for this is that they can fit in any sized wallet, making it ideal to save the card for a reference point later on.
3. Punch Cards/Loyalty Cards
Loyalty cards, also known as punch cards, are a staple for establishments that either provide frequent or reoccurring services (car washes, nail salons, hair salons, etc) or places that sell beverages, small foods, and other various refreshments. Coffee shops, cafés, bakeries, ice cream shops, and bubble tea shops are all places of business that could benefit from having punch cards for their customers. This way, you'll get repeat customers – with the card benefiting both your business and your clientele. It's a win-win!
Hosting an event with a classic seating arrangement? Tie each table setting together with place cards. Business cards are perfect for this because of their size. Make sure you choose a paper stock that contains a writable surface so that you can handwrite each person's name with ease.
When sending out a traditional invitation, you'll also likely be needing RSVP cards so guests can respond accordingly. We most commonly see this for more lavish affairs, like weddings or special galas. Business cards are the perfect compact size for RSVP cards, especially because they do not require a lot of information from either the sender or the recipient.
6. Promotion/Discount Cards
No matter the size or type of business you run, having small cards with special promotions on them will benefit you, because you can give them out in literally any type of scenario. If you own a brick-and-mortar shop, you can give one to every customer to use for their next purchase, and if you primarily run things online, you can include a card in every order you ship out. Even in instances where you have a booth, an outdoor market, or a pop-up shop, having these on hand to pass out would be an effective outreach tactic
Do you have something you want to share? Whether it's about a product, a service, or just about any type of information you have, putting it on a business card is an easy way to get your message across. Including your digital links, like your website, Instagram handle, YouTube page, and more are some helpful things you can also include on an information card
Similar to an information card, a bag insert card is where you can include any type of information you want a customer to have when they make a purchase. This can be contact information, tips about the product, a request for feedback on their order, and more. We've seen people use Postcards for this, but if you don't have the space and would prefer something smaller, then a business card is your best friend.
9. Earring/Jewelry Backing Cards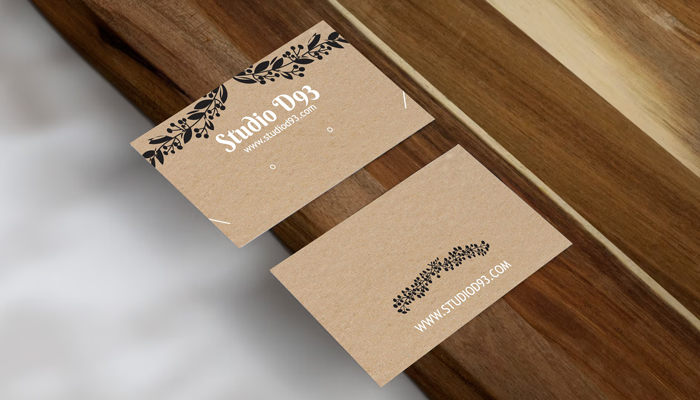 We've seen a huge spike in customers printing jewelry backing cards on business cards. You can easily punch your own holes on the card and use them to display any piece of jewelry, from earrings to rings, with confidence. Plus, you can design your backing cards with your branding/logo. You'll be creating professional-grade packaging at affordable prices!
10. Funny Bad Parking Cards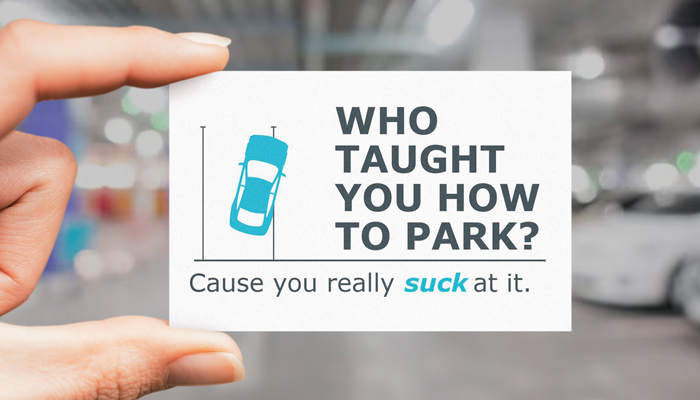 While this idea isn't really helpful for your business, it sure is creative and funny. We all at some point in time have experienced the inconvenience of a bad parker, and sometimes you're compelled to leave a note. Printing hilarious bad parking business cards to have on hand in your glove compartment is a polite and legal way to really stick it to them and let them know that their parking skills are heavily lacking. This way, you're doing society a favor, and hopefully, the recipient will learn the error of their ways and be more mindful next time they double park their Toyota Prius. At the very least, you'll get a kick out of putting one of these cards on someone's windshield.